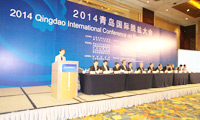 Main Topic
Desalination: Innovation-driven & Green Development
Main Content
Keynote speeches, plenary speeches, sessions, workshops, seminars, business negotiation, academic exchange, technology exhibition, government banquet, technical tour
Themes
International Conference on Desalination and Water Reuse
The status quo and development trend of desalination industry at home and abroad
Innovation of membrane desalination technology
Innovation of thermal desalination technology
Desalination and environment issues
Energy utilization and efficiency of seawater desalination and energy recovery technology
Pre-treatment and post-treatment technology
Process design, operation management and economic research of desalination system
Anticorrosion control and material selection
Application of complementary desalination products
Innovation and development of water reuse technology
Regeneration and comprehensive utilization of industrial and municipal wastewater
Conference on Industry Water-saving and pollution-controlling Technologies
Summit on Development of China Water Purification Industry
The market of China water purification industry and its prospect
The development trend of water purifier in view of drinking water quality and inspection in water purification industry
Water-saving standards of water purifier and related policies
Solutions to water safety in buildings, houses, campus and rural areas
Quality guarantee of water purifier—materials and fittings choice
The way to seize opportunities and respond to challenges for cross-border water purification companies
Marketing and service of water purification Industry in the new period
Conference on Water-saving &Wastewater Reuse Technology in Iron & Steel Industry
The status quo and development trend of water utilization in iron &steel industry
The status quo and prospect of new water-saving and sewage treatment technology and equipment in iron &steel companies
Water-saving technology of iron &steel companies and municipal wastewater treatment and regeneration technology
Research techniques on water purification, water treatment and catalyst
The status quo and prospect of desalination technology in the field of sewage treatment and utilization of iron &steel industry
Treatment and reuse technology of tertiary treated wastewater and cooling circulating water
Innovation Conference on Water Treatment Technology in Printing & Dyeing Industry
The existing situation and prospect of wastewater treating in printing & dyeing industry
Technical discussion on industrial wastewater reuse methods and improvement of recycling rate in printing & dyeing enterprises
Popularization and application of new technology, process, equipment and new drugs
Cases analysis waste on water treatment in printing & dyeing industry
Source and disposal solutions of sludge in printing & dyeing industry
Sludge drying processing technology and equipment selection in printing & dyeing industry
Forum on Urban Construction and Development of Water Ecological Civilization
Policy elucidation, beautiful construction of water ecological civilization in China
Water ecological protection and development of national water park
Conception and practice of urban construction of water ecological civilization
Planning characteristics, issues and development trend of national water park
Sustainable utilization of groundwater resources and water source protection
Issues and experience on water ecological restoration
Application of new technology, materials and equipment on water ecological restoration projects
Seminar on municipal Sewage Treatment and Reuse International DWT Academic Seminar
The latest progress in desalination technology and material research
Cases of desalination development in advanced countries
Development and application of new energy on desalination such as solar, wind and nuclear energy Membrane separation and osmosis technology
Water-saving technologies and drinking water safety
Water resources management and zero-liquid discharge technology
International Conference on Brine and Concentrated Water Comprehensive Utilization
Aseptic technique development of desalination materials, Economic and technical analysis of combining desalination with chemical production
Research on manufacturing salt and other comprehensive utilization of brine
Technology of directly extracting potassium, bromine and other valuable chemical materials from brine, and deep processing
Research on new technology and industry development strategy of comprehensive utilization of brine at home and abroadEnergy saving technology on the production of salt and salty chemical products (include soda ash, caustic soda, PVC)
Conference on Sludge Treatment, Disposal and Reclamation
The current situation and prospect on sludge treatment, disposal and reclamation in China
Standards interpretation and policy discussion about urban sludge treatment and disposal as well as the 12th five-year plan for sludge industry
Research and application of new-type sludge treatment and disposal technology and equipment
Progress of urban sludge utilization technology
Research, application and engineering examples of sludge reclamation technology, including sludge compost treatment, recycling sludge as building materials, and land utilization technology, etc.
Technology research, engineering applications, design experience and management experience on commissioning and operation, on sludge reclamation at home and abroad
Paper Selection And Publication
1. The length of the papers should be around 5,000 words, along with an abstract of 200-300 words. If you submit a paper in Chinese, you also should submit an abstract of 1,000 words in English.
2. The title of the paper should reflect the nature and content of the paper and be no more than 12 words in length. All authors' names (maximum of 8) should be listed with the given name in full, all middle names as initials, followed by the family name in full.
3. Your digital figure files should not be separated from the text file. Text files (including figures) should be formatted to MS Word files, and remarked with full information of the speaker and/or organization. All margins 2.5 cm, Times New Roman, single spaced, all lines left-justified.
4. Arrangement: Title (14, bold), blank line, Authors a, b, c (12, regular), blank line, Addresses (10, regular), blank line, Abstract (10, regular), Key words (10, regular), Text (10, regular), blank line, References (10, regular). Please remember to include your fax number and office telephone number when submitting your paper.
After the conference, a selected number of full papers will be recommended for publication in the following journals. Followed is the paper format and style respective.
Desalination and Water Treatment (SCI journal) http://www.deswater.com/instructions.php
Water Science and Technology (SCI journal) https://www.editorialmanager.com/wst/
The recommended papers will go through a peer review process following the journal's own rules.
5. The deadline for submitting abstracts is March 31th and for full papers is May 31th, 2015. Please send your papers by email to yang_yan90@126.com.
Conference Agenda
| | |
| --- | --- |
| Date | Agenda |
| June 27, 2016 (Monday) | Registration |
| June 28, 20156(Tuesday) | Opening ceremony / Keynote Speeches / Sessions / Exhibition |
| June 29, 2016 (Wednesday) | Sessions / Plenary Speeches / Exhibition |
| June 30, 2016 (Thursday) | Technical Tour |
Venue
Hilton Hotel in Golden Beach, Qingdao, China

Add: No.1, East Jialing river road, the Economic & Technological
Development Zone, Qingdao, China
Tel:+86-532-83150000
Set by the soft, wide sands of Golden Beach, with the Laoshan Mountains as a backdrop, the Hilton Qingdao Golden Beach hotel is an architectural masterpiece, combining old-world ambiance and modern design. Located on the southeast of Phoenix Island in Qingdao - The Pearl of the Yellow Sea - this contemporary hotel is located in Qingdao's Economic and Technology Development Zone (ETDZ), 20km from downtown Qingdao, and is close to many Fortune 500 companies. Liuting International Airport is only an hour's drive away.All of the spacious guest rooms and suites at this Qingdao hotel have generous work spaces and various entertainment options. A private balcony is provided in each room, from which to enjoy tranquil park and ocean views. Work out in the 24-hour fitness center or hire a bicycle and explore the beautiful parks nearby. Food lovers will be spoiled for choice at this Qiandao hotel with three bars and restaurants offering dishes prepared using only fresh ingredients, often sourced from local farmers and markets nearby.
Exhibition Of Technology And Euipment
Exhibit Profile
Desalination and water treatment technology, products and equipment
Water treatment project and special necessary components for devices/auxiliary components special for devices
Membrane and membrane module and complete membrane equipment
Water-saving and wastewater reuse technology and equipment
Project technology and related/necessary/auxiliary management
Provider of professional media, information, consultancy and software
Sludge treatment equipment
Booth and Price Standards
Standard Booth (6m2)
1. Member: US $2,000
2. Non-member: US $2,200
The standard booths include: One table, two chairs, one fascia name board with both Chinese & English company name, two spotlights, one electric socket (220V), carpet.
Registration
Early registration
(Before April 1, 2016 )
regular registration, on-site registration
(After April 1, 2016 )
Foreign delegates
Member
US$ 700
US$ 800
Non-member
US$ 800
US$ 900
Registration fee includes: Admittance to the sessions, meals, information kit and technical tour service.
Accommodation: Representatives will be provided with arranged accommodation at their own expense.
Event Sponsors
Choices of sponsoring are as follows:
Principal Event Sponsor Gold Sponsor Silver Sponsor
Banquet Sponsor Associate Sponsor Gift Sponsor
For those who want to become a sponsor of this event, please contact the organizing committee.
Registration Details
1. Fill in the registration form and email or fax it to the organizing committee before 31st May, 2016.
2. Registration fee should be paid in advance or on-site.
3. After registration fee is paid, please submit the payment receipt to the organizing committee.